I've put together quite a few vision boards in my life. So, I thought, why not share 7 most important things to put on a vision board, to make life easier for my audience.
I've felt the joy of achieving my goals with a vision board;
The challenge is that there are so many things to put on a vision board, but very few of them are important
The main thing about succeeding with a vision board is knowing exactly what you want.
You must know exactly what one goal you want to achieve
If you want to make it cute, by adding "everything" into it, it will probably not work.
In this article, I share the 7 most important visual elements you must put on a vision board.
Let's dive right in.
7 Things To Put On A Vision Board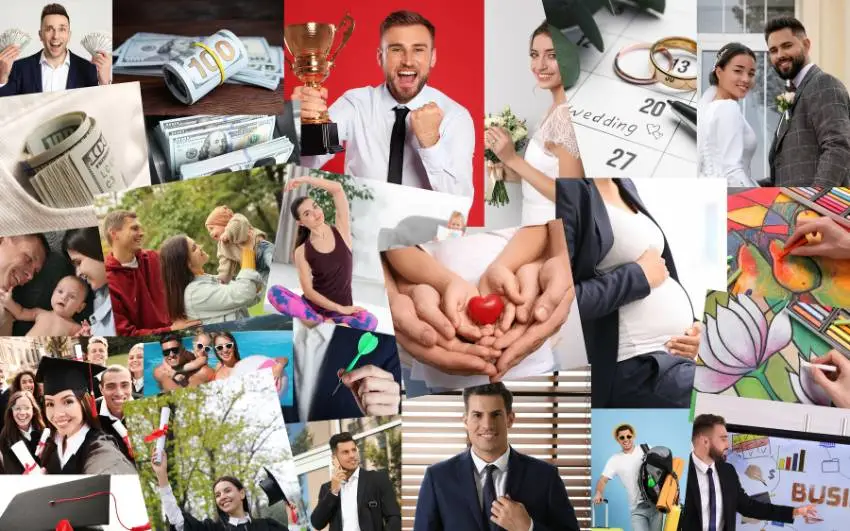 Now let us check the 7 visual elements and things to put on a vision board.
1. Vision Statement
The first thing you need to check is that your goal is clearly stated . Sounds obvious, right? But if you can't understand the most important message (goal) of your vision board, your subconscious mind can't either.
But don't despair. You can fix it by adding an image or text into your board:
A vision statement is like a goal statement that shows your written goal clearly everytime you look at it.
Putting it in the vision display would work as a powerful reminder of your goal.
Tip:
If your goal or vision statement is too long (and doesn't fit), you can use the main word of your goal as a clear reminder.
Once you've added your vision statement, your goal reminder is ready.
2. Visual Goal Reminder
For this part, I would advise you to use an image, also called vision board images.
Say you want to buy a car and want that to work as your goal.
Then you would have an awesome picture of your dream car image on the vision board.
That would surely keep you excited, and be a reminder about your target.
Tip:
A daily reminder on your phone could remind you to look at or visualize your goal for a specific amount of time.
2. Inspirational Quotes
We all know how much inspirational quotes can help you.
Just put the quote which would help refine your need, so try to find the one which would go with you and make sure your need and goals go with it.
You can put your thoughts on the vision board if you dislike quotes. That works as well.
Whatever you may feel would help you, just go with it.
4. Gratitude Quotes
You may surely find some gratitude quotes that would also make you feel better about yourself. Using gratitude quotes can keep your focus on the good things that you already have, uplift morale and get a positive vibe in your life.
Here's you'll find endless gratitude quotes, but I have some favorites.
So let me share those with you.
"Gratitude turns what we have into enough." – Melody Beattie
"The more grateful I am, the more beauty I see." – Mary Davis
 "Gratitude is the healthiest of all human emotions." – Zig Ziglar
These quotes help you encourage and ensure we can appreciate every aspect of our life.
5. Motivating quotes
Now if you ask me if motivating quotes would help your need, the answer is surely it will.
It is all about motivation and being inspired.

The main objective of using a vision board is to have the proper motivation, so if you are not going to use motivating quotes, what is the need for a vision board?
Google 'motivating quotes' to find endless options.
Do what you feel would motivate you. If you keep seeing it, it will get into your subconscious mind and manifestation will become more or less automatic.
6. Visually appealing to your eyes
Make sure what you will put on the vision board is visually appealing, and the color combination and everything should be spot on.
Because without this, it may not get noticed by you.
The color combination, graphics, and everything should be perfect and noticeable. Try to use color which is a bit vibrant and not too dull, as this would only make things harder to get it noticed.
Use an emotional image that makes you feel good. Here are some examples of emotional vision board images.
Tip:
If you're not a "designer' you can use a vision board template. The boards from Canva look good. The only thing for you to do is to add your own images and text.
Here are some links to get free images:
7. People who inspire you
If you're out of idea and thinking about what things to put on a vision board. A classic example is to use an image of one person that inspires you. A person that inspires you makes you think about the qualities and traits that you admire and want to emulate.
By doing so, you will soon start to emulate the traits of the person that you admire.
Example:
Mother Teresa.
Give selflessly to others. By doing so, you start to embody the characteristics of successful people. Successful people give more to others than poor people.
Conclusion
Whatever you put on the vision board, ensure it goes with your core values. Or even better, your goal tied to your core values.
By following these vision board ideas, you are likely to put things on a vision board that help you manifest what you want.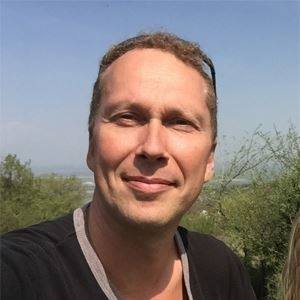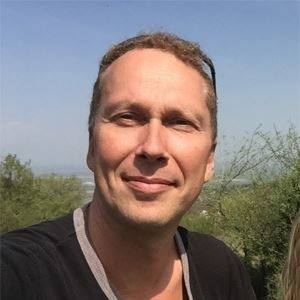 Petri Maatta is a photographer, filmmaker, and webdesigner who has been working for over 20 years in the creative industry. Fascinated by manifesting for business reasons, Petri was determined to find out what it took to create success. He started his career with seven years of business failures before he found success by learning about manifesting from a mentor with a Fortune 500 company. Today Petri shares his knowledge through DreamMaker courses designed to help people change their businesses and lives while living on their terms.
Read My Story here.