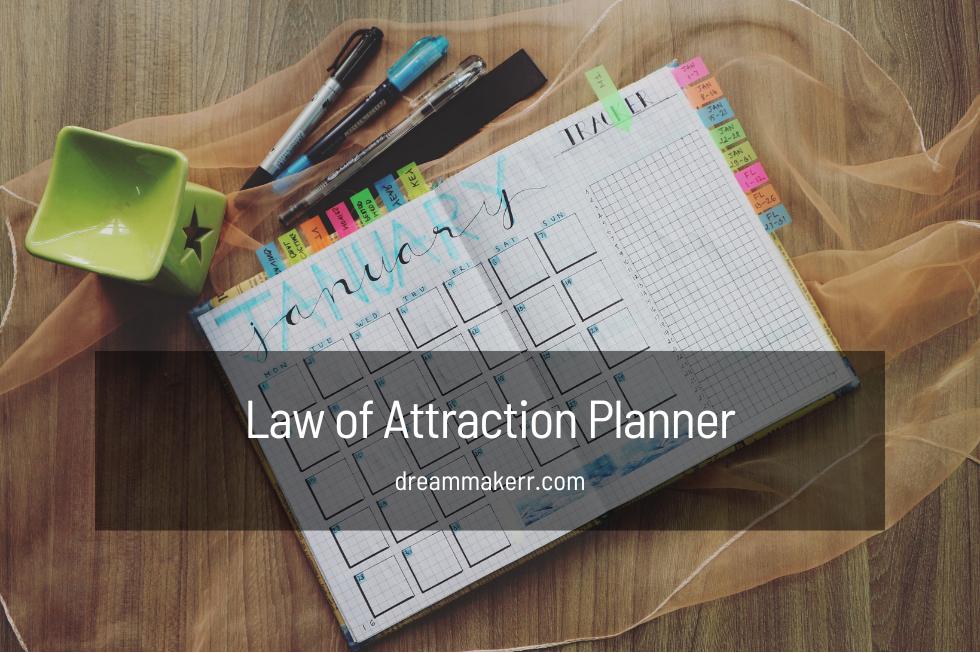 The Law of Attraction is a practice that is simple to learn but challenging to master. It's called a practice for a reason. To improve your ability to attract the desired outcomes, you must apply the principles of the law of attraction in your daily life.
Using a Law of Attraction Planner is one of the best ways to incorporate the law of attraction into your life.
5 Great Reasons To Use a Law of Attraction Planner
1. Keeps You Focused
A Law of Attraction Planner helps to keep you focused on your goals and objectives. It acts like a roadmap that stays with you every step of the way. Plus, it allows you to stay organized by setting reminders and tracking progress toward achieving your desired results.
2. Helps Manifest Your Intentions
A Law of Attraction Planner can help you to manifest your intentions and desires. By visualizing the result and writing it down, you are sending out a powerful message that will attract more positive things into your life.
3. Holds You Accountable
The Law of Attraction Planner also holds you accountable. Writing down your goals, intentions, and dreams is like having a set of "rules" that you need to follow to make them happen. This helps to create structure and motivation so you can stay on track and achieve the desired results.
4. Gives You Clarity
When you write down your goals and intentions, it helps to clarify what you want. Clarity is essential when manifesting your desires as it helps to ensure that they align with your values and beliefs. Using a Law of Attraction Planner, you can start understanding what will bring you true happiness and fulfillment.
5. It helps You Stay Focused
Writing down your goals and dreams can help keep you focused on the task. You won't be easily distracted by other things that come up in life but can stay focused on achieving your desired outcome. This helps to ensure that you will take consistent action steps that lead to the manifestation of your desires.
What Is the Purpose of a Law of Attraction Planner?
The Law of Attraction Planner is designed to help you manifest your dreams and goals. It's a tool that can focus your thoughts, prioritize tasks, and map out plans so that you can effectively work towards reaching the next level in life. It allows you to chart a course for success that will bring about positive change and reward.
The planner allows you to focus on the present while still keeping an eye on the future. By setting goals and action steps, you can break down daunting tasks into manageable chunks that can be achieved over time. It also helps you stay focused on what you want and not get distracted by other things that come up in life.
The planner also helps you track your progress, so you can look back and see how far you've come. This is especially helpful when achieving long-term goals because it allows you to easily measure the strides made toward reaching your desired outcome.
Finally, a goal planner helps keep you motivated and on track. When you have a plan in place, it's much easier to stay focused on the tasks at hand without getting sidetracked by other activities that come your way. This can help keep you from feeling overwhelmed and discouraged when tackling complex tasks or projects. Additionally, when you look back on how far you've come and see how much you've accomplished, it can be a powerful motivator and help keep your momentum going.
If you meet the following criteria, the law of attraction planner is ideal for you:
You want to create a life that exceeds your wildest dreams.
You are ready to take action to manifest your desires with the help of the Universe.
You are willing to let go of any limiting beliefs impeding your ability to display.
You want to amass a library of affirmations and prayers to help you strengthen your faith in the Universe.
You want to establish boundaries to protect your energy and stay in sync with the Universe.
You are receptive to signs from the Universe and are witnessing miraculous shifts around you.
Instead, you are willing to see obstacles as divine guidance from the Universe.
You're ready to stop settling for the second best and start co-creating your ideal life with the Universe.
What Is Typically Included A The Law of Attraction Planner?
With a Law of Attraction Planner, you can create the life of your wildest dreams. Use the Law of Attraction to attract precisely what you want into your life. It includes multiple pages and worksheets to help you improve your manifestation practice.
The following are the critical areas of the law of attraction that this planner can assist you with:
Affirmations for Every Day
Please list your favorite affirmations and what you use them for. Affirmations should be recited every morning and night to raise your vibration and shift your energy.
Daily Planner: Plan what you want to accomplish today and co-create with the Universe.
Begin your day with a positive affirmation, intention, and quote.
Set your top priorities and to-dos, then cross them off as you finish them.
Prayers Every Day
Make a list of your favorite prayers and when to say them. When you need to, call out to the Universe. The Universe is constantly reacting to your thoughts and energy.
Visualization of the Future-Self
Act "as-if" by picturing yourself in the future, as if you've manifested your ideal life. Allow your thoughts to run wild and be as descriptive as possible. During your meditation, visualize your future self to attract your perfect life.
Journal of Gratitude
Gratitude attracts more of what you have. Thank you for the things and people in your life. Maintain your optimism by focusing on the good that is on the way. Reframe your difficulties as divine teachings from the Universe.
High-Intensity Activities
Please make a list of your favorite activities as well as how they make you feel. Raising your vibration by doing something that brings you joy is the quickest way to get out of a negative spiral.
Detoxification of Judgments
By writing it down and releasing it, you can free yourself and others from judgment. The negative energy associated with determination interferes with your ability to manifest power. Give up your judgment and reconnect with the Universe.
Beliefs That Are Limiting
Limiting beliefs are any false belief that limits you in some way, shape, or form. Write down our limiting beliefs and then counter them with a true affirmation.
Manifestation Scheduler
Describe and visualize what you are attempting to manifest in detail. Be aware of your limiting beliefs and use empowering affirmations to dispel them. Co-create your action plan with the Universe and remain open to receiving guidance from the Universe.
Miracles Journal
Miracles are happening all around you, from divine blessings like a new job offer to personal benefits like an energy shift from fear to love. You have to be aware of them. Keep a record of every miracle to strengthen your faith in the Universe.
The Reading List
Make a list of the books on spirituality and self-help you want to read next. Learn from your favorite authors and teachers to strengthen your manifestation knowledge and connection to the Universe.
Obstacle Reframing
Obstacles are diversionary routes in the right direction. Clarify your problem and the lessons you can take from it. Return to love by actively seeking better feelings. Through prayer, release your impediment to the care of the Universe.
Creating Limits
Your energy manifests as your reality. Set clear boundaries in your life to protect your high-vibe energy. Stay close to the energies with which you agree and away from those with which you disagree.
The Universe's Signs
If you ask for a sign, the Universe will guide you at the most appropriate times. Choose a sign that speaks to you and how seeing it makes you feel. Keep track of every sign you visit to strengthen your faith in the Universe.
How Does a Law of Attraction Planner Work?
There are three steps to use the Law of Attraction Planner.
Fillable PDF: The Law of Attraction Planner includes fillable fields that can be filled out with your preferred PDF reader software. Adobe Reader (free) and Adobe Acrobat are our favorites.
Tablet & Pen Annotation: The Law of Attraction Planner can be annotated with a tablet and pen, such as the iPad, using apps like Notability or Goodnotes. You could also use a PDF reader app like Adobe Acrobat Reader for PDF to fill it out.
Printable Worksheet: You can print out the Law of Attraction Planner as a physical worksheet and planner.
Where Can I Get a Law of Attraction Planner?
On Amazon or Etsy, you can purchase our Law of Attraction Planner. Once you have purchased the product, the planner will be available for download. After you buy the files, you will have lifetime access to them, allowing you to download and print them as many times as you need.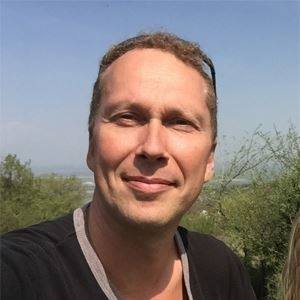 Hi! I'm Petri. Author and Manifestation Coach. My mission is to help people with big dreams (like yourself!) manifest their greatest desires.
I'm a photographer, filmmaker, and webdesigner and have been working for 20 years in the creative industry. Fascinated by manifesting for business reasons, I was determined to find out what it took to create success. I started my "career" with seven years of business failures before I found success by learning about manifesting from a mentor with a Fortune 500 company. Today I share the knowledge through DreamMaker courses designed to help people change their businesses and lives while living on their terms.
Read My Story here.
People In DreamMaker Manifestation Community
Subscribe to our free newsletter.
Stay up to date! Get all the latest & greatest posts delivered straight to your inbox
The science of Law of Attraction is defined as "the belief that positive ideas attract good life occurrences and negative thoughts attract bad life events. if you focus on a single wish and believe with all your might, it will be achieved," according to the Urban Dictionary. The Law of Attraction, according to popular wisdom, […]